REMINDER: We are following a regular Thursday schedule today with a Thursday dismissal time. NO SCHOOL tomorrow, Friday, February 3. Have a great three-day weekend!

CORRECTION: Due to a miscommunication, we incorrectly reported that WRESTLING in Boulder was canceled. It appears that the roads that direction are better than we thought. For now, the team is still planning to travel to Boulder. We will reassess the situation in the morning and coaches will contact wrestlers if there is a change. Our apologies for the misinformation and any confusion we may have created.

Activities Update: High School WRESTLING in Boulder is CANCELED tomorrow. High School BASKETBALL in Shelby is still on and will be running on the same schedule as previously released. Junior High VOLLEYBALL in Cut Bank is still on. The game schedule will remain the same, but the bus will leave at 6:30 to allow more time to travel. Thank you for your understanding with the many changes today. We will update as soon as possible if anything changes from this point forward.

FFA Cancelled: Due to current road conditions and the weather forecast for tomorrow, the FFA trip to Lewistown has been canceled.

ANNOUNCEMENT Due to extreme road conditions and the weather, Friday's basketball games with Manhattan have bee cancelled. We will announce the alternate make-up date as soon as that is worked out. Wrestling in Simms is still on for Friday. Saturdays events are still a go. We will let you know if anything changes. Thank you,

HOME EVENT PARKING & GAME ADMISSION Parking behind the school facility is for school personnel, coaches and officials only. Please, DO NOT park inside the gate if you are not school personnel. All spectator admission to the gym should be through the front entrances. The back entrance will be locked and should be accessed by players, coaches, officials and school personnel only. We understand it is less convenient to utilize the front entrance, but we cannot have 28 vehicles parked behind the school for emergency access reasons like the last home event. We also need spectators to enter through the front for compliance with district safety and admission responsibilities, even if you have a pass. Please do not use the back entrance. Thank you for your cooperation,

As we head into the 2nd half of the school year, there are a few informational items to share. First, in order to do a better job teaching digital citizenship and appropriate cell phone usage, we are tightening up enforcement of School Board Policy 3630.0 regarding student cell phone usage. It is available on the school website under "District Information," and "Board of Education." If you send a text to your student, don't be alarmed if they don't respond immediately. They can still do so between classes, or you can call the office to relay a message. Our goal is to allow the students some freedom from their devices so they can focus better on their academics while they are in school. If they violate this policy, their phones will be confiscated and kept in the office until the end of the day. If you have any questions, please contact Mr. Wilson. On a brighter note, there will be no school on February 3 or March 10. Mr. Gordon was able to manipulate the schedule to add some time to each day to allow for some additional 3-day weekends. The school board approved these changes at the January meeting, so enjoy some extra time off with your children or get some extra work out of them!

Quick Reminder: Today is a 2:30 release. There will be no FLY today. Friday, January 13 is a PIR Day, no school for students.

Due to road conditions, we had to make changes to tonight's schedule. The C squad boys' game is cancelled. The JV boys, varsity boys, and varsity girls will be leaving the school on the same bus at 12:00 and taking an alternate route through Shelby and Havre to avoid snow and ice conditions. Coaches should be in contact with parents and/or players about who is going. The JV boys' game will still start at 4:30, and varsity schedules remain the same. Depending on road conditions, they may take the same route home or may come through Great Falls if it improves. We apologize for any inconveniences this may have caused and appreciate everyone's understanding in keeping our student-athletes safe.

Highways are black ice and very dangerous. Please drive carefully and take dirt roads where possible. Bus routes will be late. Student tardiness within rain will be excused due to conditions.

Semester Test Schedule First Semester - 2022-2023 Wednesday, January 11th 8:15 – 9:45 (:90) Period 2A Final Test 9:50 – 10:35 (:45) 1st Period Study Hall 10:40 – 12:10 (:90) Period 4 Final Test **(Semester Class Check-Out) Lunch (Dismiss classes according to the lunch dismissal schedule) 12:55 – 1:55 (:60) 2B Period Study Hall * Students go to 2B Classroom 2:00 – 3:30 (:90) Period 3 Final Test Thursday, January 12th 8:15 – 9:45 (:90) Period 1 Final Test **(Semester Class Check-Out) 9:50 – 10:35 (:45) 5th Period Study Hall * Students go to 5th Classroom 10:40 – 12:10 (:90) Period 2B Final Test Lunch (Dismiss classes according to the lunch dismissal schedule) 12:55 – 2:25 (:90) Period 5th Final Test School will dismiss at 2:30 on Thursday (Friday Release, but M-Th Lunch Time) Semester Test Week It is Fairfield Policy that ALL classes will give a Semester Final JH Schedule JH will be on Ski Trip Wednesday. JH will have their Regular M – F Class Schedule Thursday morning. JH will have PE and Health both Thursday after lunch. The last JH Extension class will be Tuesday. -JH students will need to turn in all books, materials, etc. for extension classes on Tuesday.

Important Announcement... We will be finishing the school day today and are still planning on the elementary holiday program this evening as planned. For anyone uncomfortable coming to the school this evening due to weather, the program will also be live streamed at:
https://www.youtube.com/@FairfieldSD21/streams
Due to the frigid weather conditions and forecast for snow and dangerous wind chill tomorrow, we are cancelling the 1/2 day of school, Wed, Dec 21 for safety reasons. This includes the scheduled home basketball game and away wrestling. On behalf of the Fairfield School, we would like to wish everyone happy holidays.

Bus routes will run as close to normal as possible this morning. Please contact your driver if your road is too drifted to be safely passable. They will likely be a little later than their regular times. Stay safe out there today and leave a little earlier if you will be driving.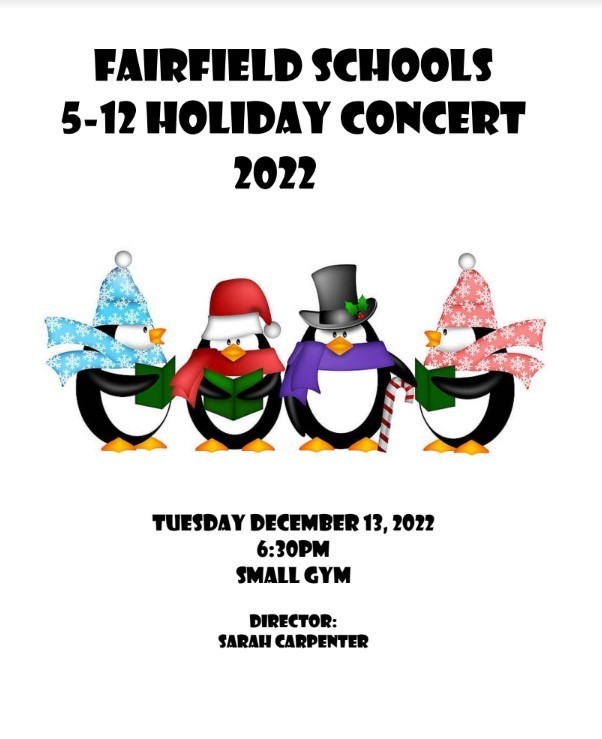 Road conditions are slick and there is quite a bit of drifting, especially in the typical problem areas. Buses are running as close to their regular routes as possible. If your road is impassible, please contact your driver and make alternate arrangements. They may be running a little late due to the conditions. Thank you, in advance, for your patience and understanding.

Fairfield FFA is clearing out the last of their Christmas trees for this year's Christmas tree sales. Prices are now reduced from $5/foot to $3.00/foot as the trees need to be gone by Thursday (12/15/2022). Fairfield FFA wishes everyone a Merry Christmas and Happy Holiday Season! If you ordered fruit from FFA members, it should be arriving soon.

Parents of Junior High Students: Please make sure that your child returns the yellow form for the ski trip. It is scheduled for 1/11/23, but we need to send those forms in so Showdown can start planning for our trip. Also, there will be an informational letter going home tomorrow. Make sure you take a few minutes to read over it. Contact me at school or through email,
pwilson@fairfield.k12.mt.us
, with any questions.

Tennis Players: There is a tournament in Great Falls at Meadowlark Country Club December 2-4, 2022 for any interested players ages 10-18. Players are allowed to compete in both singles and doubles if they would like to. Registration fees are $30 for singles and $25 for doubles. The Fairfield tennis club will help with registration fees for any high school players who are interested and need help paying for the tournament. Registration forms are available from Mr. Wilson, and they are due by Wed., Nov 23 at 5:59 pm. Players can call in their entries if they pay with a credit/debit card.

After checking some of the roads early this morning, I have decided that we will continue to run the bus routes this morning. There is a fair amount of drifting snow, especially on the north edges of the east/west roads. I have instructed the drivers to take it as slow as necessary to be safe and to use alternate routes if necessary. Parents should get a message if their child(ren) cannot be picked up. If you know the bus will not be able to get to your house, please contact your driver. Bus routes will likely be a little behind their regular schedules today. Thank you, in advance, for your understanding.

Our music department is gaining even more accolades. Max Gjerde, Shea Ostberg, and Maya Wilson were selected for the North Central Honor Band. Isaac Lauver, Emilee Lear, and Robyn Mathison were selected for Honor Choir. They will travel to Cut Bank on November 28th and 29th. There will be a public performance in the evening on the 29th. Congratulations to all of you!