Congratulations to the FFA team for winning 1st place at the Mechanics competition!!!!!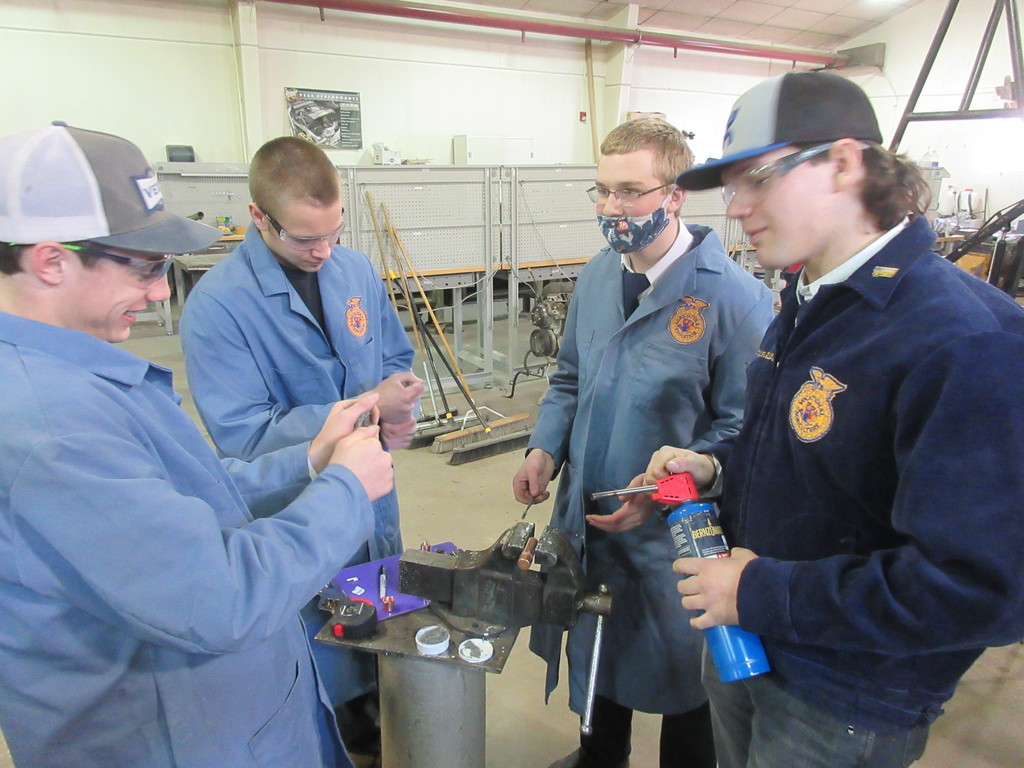 Class B State Basketball Tournament Ticket Link for Billings Metra:
https://www.metrapark.com/events/2021/state-b-basketball
You will need to by separate Ticket(s) for Boys and for Girls. Ticket is good for Fairfield Only. School Pass Code: Boys (Fairfield75) Girl's (76Fairfield)

Fairfield Community and Parents, This information was released yesterday... "Gov. Greg Gianforte said Wednesday he would lift a statewide mask requirement later this week after signing a bill that is intended to protect businesses and health care providers from coronavirus-related lawsuits." Please note this did not refer to public entities like schools in regard to the announcement that will occur tomorrow. Nevertheless, I understand this has created some questions and caused some concern. Please be at ease. Schools primarily operate day to day under local control and board policy, which was adopted even before the governor's mask mandate was put in place. Our board adopted 1900 Policies are very comprehensive and currently provide the health related guidance for the school and covid protocols. We are still under the statewide "state of emergency" and also have to adhere to our adopted "Return to School Plan," which includes face coverings and quarantines. School policy is driven by guidance from county health, so regardless of what the governor says tomorrow, schools still adhere to board policy. The current mask policy is no different than school dress code, local grade and graduation requirements or not driving at lunch time. Once the Governor makes his announcement tomorrow, we will work with the Board to determine if any other discussion regarding changes in our processes need to occur. If there are changes that are needed, the staff will be included in that discussion. For now, the important thing to note is that our students and staff are required to continue following the same processes that we have been following all year with regards to face-coverings. The legislation regarding litigation currently does not include schools so we are also still under the "standard of care" laws which are based on negligence. Also, if the MHSA continues to require masks to be worn by athletes and coaches, it is very likely schools will all continue to follow suit and support whatever is necessary for the students to play. Our last outbreak and shift to remote learning coincided with the conclusion of fall post-season activities. We are once again closing in on the winter post-season and I am not sure any schools will jeopardize participation in those events, and at the same time do what we can to keep the school open. We are having a North Central Montana Administrators meeting tomorrow after the press conference, where we plan to discuss and collaborate about how the governor's new information will impact schools and where we go from here. The tone coming out of today's state-wide administrator conversations was pretty universal and reflected, "we are finally getting into a regular routine with everything and would simply like to continue down the safest path to get to the end without having to go backwards." Again, the ultimate goal for schools is quite simply, to keep kids here in person and avoid further closure, particularly in the elementary. If masks, seating charts and assigned lunch tables help make that happen, schools will continue to honor all the work that has been done to get to this point. We are all looking forward to the day we do not wear masks and look through plastic, but I am not sure that day is tomorrow.

SCOLARSHIP INFORMATION 2nd Semester Scholarship Deadline is March 15, 2021. Please submit an unofficial transcript along with your spring registration to:
bevans@fairfield.k12.mt.us
Reapplication Deadline for those who qualify is April 1st, 2021 Reapplication forms were included with your scholarship. Anyone needing a new form may contact the school office.

Teton County law enforcement officials are inviting the public to attend an informative assembly about recent dealings with a sexual predator. Please come to the north doors of the gym and sit in the north bleachers. When: Wednesday, January 27, 2021 Time: 6:15 PM Where: Fairfield School Big Gym. North doors, north bleachers Please wear a mask and physically distance.
If you are interested in this distance/remote option for Spring 20-21. Please call us so we can make a plan. Thanks. A distance learning solution has been researched and contracted for the 2020-2021 school year. Participating schools in Teton County and the Sun River Valley have come to a cooperative agreement to utilize Edgenuity online programs for students who choose to attend school remotely this year. Edgenuity serves students K-12 with online standards based curriculum, teaching staff, resources, and support. A local area coordinator/counselor will help launch the instruction platform to interested students and their families in time for the fall semester. Local school counselors and administrators will provide collaboration with the cooperatively shared facilitator for individual student needs and concerns from their respective schools in regard to scheduling, attendance, progress, and interventions. If you are interested in learning more about Edgenuity, please check out their website at
www.edgenuity.com
. The following video links may also be helpful in your decision to take part in the offered remote learning options available in partnership with Edgenuity and your school this year.
https://www.edgenuity.com/video-library/?vid=5978276525001
https://www.edgenuity.com/video-library/?vid=6073377315001

Announcement The Fairfield School Board Meeting originally scheduled for Monday, January 11 has been re-scheduled for Tuesday, January 12th.
No FLY on January 14th.

ANNOUNCEMENT: Thursday, January 14 school will dismiss at 2:30. Friday, January 15 no school PIR day for staff.

ANNOUNCEMENT Friday, December 11th We sent out an automated text through Infinite Campus yesterday letting all parents know that we are cleared for school to resume on campus Monday, December 14th for all grades PK - 12. Busses, lunch and schedules will back to our regular day. County Health and the school administration have been working closely during the outbreak and now feel it is safe to return. All staff members are cleared and we are ready to get our students back in school. It is important to continue to watch for symptoms and keep your child home if they are not feeling well. All of the protocols will still be in place including masks, hand washing, and physical distancing when appropriate. We have done a deep clean throughout the building and are ready to finish strong before the holidays. We would like to thank everyone for being diligent with the quarantines and remote learning. We are looking forward to Monday.

2nd Semester Scholarship Checks Are Ready! Please submit an unofficial transcript along with your spring registration to:
bevans@fairfield.k12.mt.us
Deadline is March 15, 2021

UPDATE: Wednesday, Dec 2nd WE ARE ABLE TO PROVIDE LUNCH! Good News, we are able to provide school lunch to everyone who signed up starting tomorrow, Thursday, December 3rd. Curbside Pickup: 12pm Delivery will leave school at 11:45am and will be a work in progress. We will make that link for sign up available again tomorrow if you would like to take advantage of free school lunch. Unfortunately, we are still continuing to get positive cases in the school for both staff and students, all of which continue to reinforce our back to school date for "reset" to December 14th. Most cases are tracing back to our initial outbreak, but again I want to reinforce that we are in remote learning to limit staff and student exposure. Please do your best to isolate for a little longer so we can safely return to school. Thank you,

2nd Semester Scholarship Checks Are Ready! Please submit an unofficial transcript along with your spring registration to:
bevans@fairfield.k12.mt.us
Deadline is March 15, 2021

FAIRIELD SCHOOL UPDATE: SUNDAY, NOV 29 THE FAIRFIELD SCHOOL WILL BE UNABLE TO PROVIDE ANY PICK-UP OR DELIVERY LUNCHES TEMPORARILY. WE WILL RESUME THIS SERVICE AS SOON AS POSSIBLE. On Wednesday, Nov 25 the decision was made to go to school wide remote learning this week: Nov 30 - Dec 4. That decision was based on the high number of students and possible staff who are required to quarantine due to "close contact" and tracing. Over the weekend, Teton County Health and the school have been monitoring the situation closely. We now have additional staff members and some students who have symptoms over the weekend. They are officially being tested making the situation very difficult. TO AVOID ANY FURTHER SPREAD, THE SCHOOL WILL BE REQUIRED TO REMAIN IN REMOTE LEARNING UNTIL THIS SITUATION IS CONTAINED. We will be in remote learning this week and had hoped to resume school in person on December 7th. Due to the additional positive cases after the weekend within the school, we will now need to move our in person date back to to December 14th. The elementary PK-6 students remain our priority for on-site learning. We will continue to assess the situation and prioritize their safe return to in person learning. I would like to emphasize that in order for school to resume safely, everyone will need to be diligent and follow the guidance from county health. Students, particularly those in 7-12, will need to adhere to quarantine orders. Those who were not close contact identified will need to limit their interaction for a couple weeks as well. Please, wear a mask, wash frequently, and sanitize your surroundings often. If you have symptoms or know you are a close contact, please get tested and confirm your status for the sake of everyone around you. If we do so, we can box this in and get back to a covid free school with limited county numbers that can traced to avoid further closure and the safety of our staff and community.

PARENTS OF FAIRFIELD HS STUDENTS Please check your email. We have been working with Teton County Health and the contact tracing component associated with the current positive covid-19 cases identified at school. Close Contact extends to 48 hours prior to the onset of symptoms and testing. The events from the weekend and school last Friday have created a fairly large group of students and staff that are considered a "Close Contact" with several individuals who have tested positive and are now subject to a county health quarantine through Dec 4th. For the safety of those around you, please be diligent about these quarantine orders from County Health and follow the guidelines. Even if your student(s) are currently not considered a close contact, you should strongly consider keeping them at home for the next week through Friday, Dec. 4th so we stop any spread associated with the identified individuals. All PK - 12 students are remote learning until that time and we hope to be safely back in school on Monday, December 7th.

Following the weekend, the Fairfield school was made aware of a couple potential covid cases that, if positive, could impact students in grades 7-12 and one elementary class.  Due to the short week followed by an extended holiday, the administration with support of the school board and Teton County Health, implemented their remote learning plan for those students and staff.  This was a proactive and preventative measure taken to minimize any potential spread that takes advantage of the holiday schedule to minimize the loss of learning time and get students back in school earlier than waiting for results, then taking action. Successful grouping and cohorting of the remaining PK - 6 grades has made it safe for their continued education in school for the remainder of the short week. We will continue to monitor the situation and update our community and families as more information becomes available. 

Dear Parents/Guardians: On Thursday, November 19th, 2020 the Fairfield School District was notified that a school employee tested positive for the Covid-19 virus, which was confirmed by the Teton County Health Department. No students have been in close contact with the employee. The employee last worked in person on Monday, November 16th, and as a precautionary measure, Teton County Health and the Fairfield School District isolated and requested testing from one other staff member for Covid-19. Any potential staff or students at risk will be notified by the school and/or the health department to determine a safe and appropriate course of action. Due to the isolated circumstances, this limited exposure will not require the closure of any classes, cohorts, or school functions at this time. This notification is to provide full transparency and communication for the safety of our students, staff and community members. We have implemented the Center for Disease Control safety precautions. In partnership with Teton County Health Department, we are continuing to provide a safe learning environment for all of our students. The limited area accessed prior to isolation has been cleansed and sanitized. We continue to encourage all parents/guardians and staff to monitor students closely for any signs of potential illness. Students should remain at home if they are exhibiting any of the symptoms of Covid-19 including fever, headache, new or persistent cough, loss of taste or smell, fatigue and/or stomach issues. We would like to take this time to stress the importance of utilizing preventative measures such as, handwashing, social distancing and face coverings. Any success in preventing another outbreak depends on us. In order to keep our students and staff in school and safe it will take all of us to do our part in preventing the spread of the virus. School officials will continue to monitor the situation and will provide further information if and when it becomes available. Sincerely, Dustin Gordon Superintendent Fairfield Schools

Annual Fairfield School Veteran's Day Program Please go to:
http://eaglestreaming.com/
The entire video program is available and ready to play at your convenience. Thank You Veterans

ATTENTION: SCHOOL CLOSURE MONDAY Due to the weather conditions, there will be NO SCHOOL on Monday, November 9th. This will be an "Emergency Snow Day" because there are families drifted in who also may not have power or internet restored by tomorrow to accommodate distance learning. School will resume Tuesday, but we will continue to monitor the ability to provide bus transportation that morning and will communicate with families who may still be snowed in. Stay Safe and Warm,
Just a reminder that today is a 1/2 day and this afternoon is Parent/Teacher conferences. Please see the forms on this website to request a conference with your child's teacher(s).